Customer Service
Customer service is an essential component of our everyday operations at BVA. We work very hard to differentiate ourselves from our competitors with our commitment to delivering the highest possible quality castings on time, every time. We make it a point to work proactively and in collaborative partnership with our customers to understand and meet their needs, prevent problems and exceed expectations.

We pride ourselves on our straightforward and open lines of communication with our customers, and commit to always provide you honest guidance regarding deadlines, deliveries and any other feedback that is required.
For Additional Information Contact:

Attn: John Forster, Jr. Sales Manager
4165 Brodhead Road
Monaca, PA 15061-2496
Phone: 724-7751987
FAX: 724-775-1474
Email: cast@bvalley.com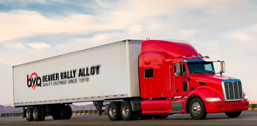 Shipping & Logistics
BVA's location in Monaca,Pennsylvania, is perfectly situated for easy access to interstate highways, facilitating delivery
of castings of any size and weight range across the Midwest, the Eastern Seaboard and the entire nation. Easily accessible interstate highways include I-79, I-376, I-70, I-76 (PA Turnpike) and I-80. Each of these trucking routes can be accessed in less than one hour from our manufacturing complex in western Pennsylvania.